TAILORED INSTRUCTIONS FOR
GOALTENDERS!
WE ARE THE MOST PASSIONATE SPECIALISTS!

IMPROVEMENT GARANTEED

Information: 514-794-7825
EXCEL THIS SEASON
You will learn the latest advanced techniques such as the "Reverse-Vertical-Horizontal" approach, pivoting recoveries, and decision making in different game situations. In addition, you will learn how to play the percentages and select the appropriate stopping techniques to apply in various situations. Of course, we will teach you the latest trends in rebound control, not to mention specific exercises to develop balance, agility, anticipation, puck handling…

In our environment, we will push your limits from the very first practice session. Our coaches, with our on ice drills, will structure a personalized system for you that promotes an efficient and solid work ethic from day one. You will develop the confidence you need for the upcoming season!

ONE-ON-ONE INSTRUCTION TRAINING
Unfortunately,
often overlooked
and even forgotten during the hockey season,
goaltenders
receive very little personalized teaching
by an experienced
and qualified instructor.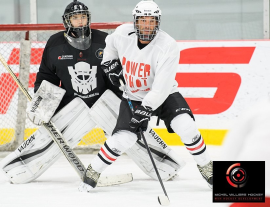 Our goaltenders are always surrounded by the latest technology, in order to improve their reaction time.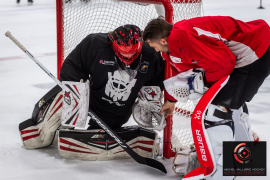 You will learn the latest advanced techniques such as the " Reverse-Vertical-Horizontal" approach and playing the percentage. Also, learn how to take active part in your team's breakouts.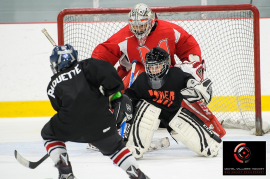 Finally, take some quality time and get personalized on all new trends.